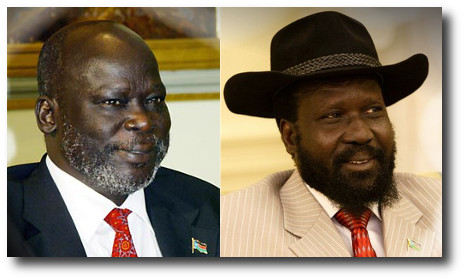 H.E. LATE DR. JOHN GARANG DE-MABIOR (Left) and H.E. SALVA KIIR MAYARDIIT (Right)
Official Name: Republic of South Sudan
Independence Day: 9 July 2011
Capital City: Juba
Time Zone: East African Time (GMT+3)
Official Language: English
Currency: South Sudan Pound (SSDG)
Population: 8,260,490 (2008 census)
Diplomatic Community:
India, Arab Republic of Egypt, Republic of Uganda, Republic of Kenya, State of Eritrea, Federal Democratic Republic of Ethiopia, The Great Socialist People's Arab Jamahiriya of Libya, British Embassy, The Royal Netherlands Embassy Office Juba, Norway, Italy, The Embassy of the Federal Republic of Germany, China, South Africa, United States, France, Turkey, Zimbabwe and Nigeria.
Representative offices include the European Union Office, Joint Donor Team Office, Arab League of Nations, African Union, Japan International Cooperation Agency, World Bank, and Swiss Cooperation Office Juba.
RSS Missions Abroad:
Egypt, Ethiopia, Eritrea, Kenya, Uganda, Democratic Republic of Congo (DRC), Zimbabwe, Nigeria, South Africa, Australia, Norway, Belgium, United Kingdom, Canada and United States of America
Constitution: Transitional Constitution of South Sudan (2011)
States:
The Republic of South Sudan has ten states. They include Central Equatoria (Juba), Western Equatoria (Yambio), Eastern Equatoria, (Torit), Jonglei (Bor), Unity (Bentiu), Upper Nile (Malakal), Lakes (Rumbek), Warrap (Kuacjok), Western Bahr el Ghazal (Wau), and Northern Bahr el Ghazal (Aweil).
Political Parties:
Sudan People Liberation Movement (SPLM), National Congress Party (NCP), Sudan People's Liberation Movement – Democratic Change (SPLM-DC), Sudan African National Union (SANU), United Democratic Front (UDF), Union of Sudan African Parties (USAP 1), Union of Sudan African Parties (USAP 2), South Sudan Democratic Front (SSDF), and United Democratic Salvation Front (UDSF).
Southern Sudan Flag:
 

Initially used by the Sudan People's Liberation Movement/Army during the liberation struggle, the flag was adopted as the national flag of the new Republic of South Sudan by all political parties, the Government of Southern Sudan cabinet and the Southern Sudan Legislative Assembly.

The flag's colours symbolize the following:

Red: Blood that was shed by the liberation struggle martyrs.
White: Peace attained after many years of the liberation struggle.
Blue: Waters of the Nile River, a source of life for the country.
Green: The countries natural resources. 
Black: Black African skin.
Yellow: Star guiding the country and its citizens.
Coat of Arms:
The prominent feature of the coat of arms is the African fish eagle (Haliaeetus vocifer), which is common in most areas of South Sudan. It symbolizes vision, strength, resilience and majesty. The eagle is leaning against a traditional shield and crossed spear and spade which symbolize the people's resolve to protect the sovereignty of their republic and work hard to feed it.

 
National Anthem: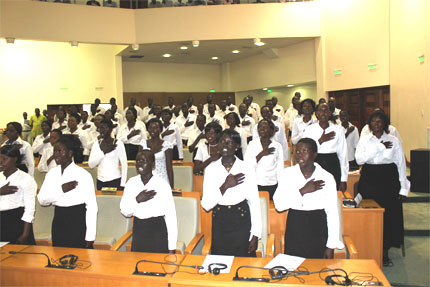 A group of youth sing the national anthem.
                                      [Photo: Matata Safi]
In August 2010, South Sudanese were invited to compose a national anthem. After three rounds of competition, the University of Juba students won with their lyrics titled South Sudan Oyee (Hurray). A technical committee rearranged the original lyrics, which were then adopted as the official national anthem. The first stanza expresses gratitude for the abundant natural resources the country is endowed with, the second celebrates peace that the country now enjoys, while the third epitomizes the struggle of South Sudanese.
Oh God
We praise and glorify you
For your grace on South Sudan,
Land of great abundance
Uphold us united in peace and harmony.
Oh motherland
We rise raising flag with the guiding star
And sing songs of freedom with joy,
For justice, liberty and prosperity
Shall forever more reign.
Oh great patriots
Let us stand up in silence and respect,
Saluting our martyrs whose blood 
Cemented our national foundation,
We vow to protect our nation
Oh God bless South Sudan.